The CarryMe is a folding bike with an incredibly small wheel size of 8 inches manufactured by Pacific Cycles. The main advantage is its folding style which seeks to balance a stick-shaped fold while maintaining the ergonomics of a regular bike.
I've been dreaming of owning this bike for many years, and when the chance presented itself I bit the bullet and bought one from a previous owner on eBay. The cost of the raw package: £200, delivered with the official carry bag, disguising this micro-folder as a set of golf clubs, or possibly a duffel bag.
First impressions
The package arrived from southern England and awaited me after a long day at work. After releasing it from the packaging, I spent a solid 5 minutes simply staring at it. My mind simply couldn't process how this exceptionally curious object was at all a bike. Absolutely amazing.
There is a large corporate campus near where I live with a very large and well paved parking lot which was perfect for a test ride. After dinner that night, I unfolded it and took to the lot for a test spin. To my surprise, the handling was recognizably bike-like in spite of the small wheels.
I set out quickly to test my limits on the CarryMe. The turning radius I achieved was around 3 meters in diameter: this thing was capable of much tighter turns. Next came the braking tests: front and rear were tested separately. Stopping distance was around 10 meters at roughly 18 km/h.
This was an extremely fun bike to ride. Not only was unexpectedly stable at high or low speed, the rolling resistance of the bike seemed minimal with its high pressure 85 psi tires. A holistically designed bike that exudes purpose and functionality from whichever angle you may look.
It reminded me of the strange and exciting feelings felt when I bought my first Brompton!
Folded look
The bike is essentially built around an aluminium plank with stays that fold away by collapsing the seat-post and head-tube. Both collapse in the same direction, allowing the lengthiest parts of the bike to be laid upon each other in parallel lines.
Mechanical details: seat post
The seat post is very well designed, it takes an inner post of the standard 27.2mm diameter with a stock length of 350mm. There are many aftermarket replacements that can be substituted, e.g. carbon fiber seatposts.
When the bike is being ridden, the seatpost carries a notch into which, the seatpost stays lock into. It is self-securing, with the help of the rider's weight and the angle of the unfolded seatpost. There is also latch above the notch which stops any movement of the stay; super simple.
A simple mechanism also holds the seatpost in place when folded: the seatpost quick release handle has a cutout which latches onto a bolt at the front end of the frame.
Mechanical details: head-tube / stem
The most intriguing aspects of the CarryMe fold are concealed inside head-tube and stem. The head-tube is an aluminium tube with an expanding-plug stem (with quick release at the top) that collapses into it. To fold the CarryMe, the head-tube has to slide through a collar mounted at the front of the frame to allow the front-fork to fall down and latch onto a bolt in the middle of the frame's underside.
When riding the angle of the head-tube, along with the head-tube stay, and friction collar hold the entire front section in place. Pictures will do this clever action a little more justice here:
The entire folding and unfolding process can be seen here:
Other mechanical details
The CarryMe has some additional creature comforts:
a rear rack for some light luggage
roller wheels for dragging the folded bike around
standard ANSI 25 (or 25H) chain size
84 tooth front chain-ring (single-speed model)
14 tooth rear drive sprocket
long crank arms: 160mm
bent-valve 8" Schrader inner tubes
My particular CarryMe has the frame number P7297323 stamped onto the bottom bracket shell.
Early models such as my P7297323 have a 100 BCD 4-arm crankset which is unfortunately incompatible with the later 5 arm crankset and the larger 92 tooth chainring upgrade available for that.
The chain is an ANSI 25 or 25H, which has the following measurements: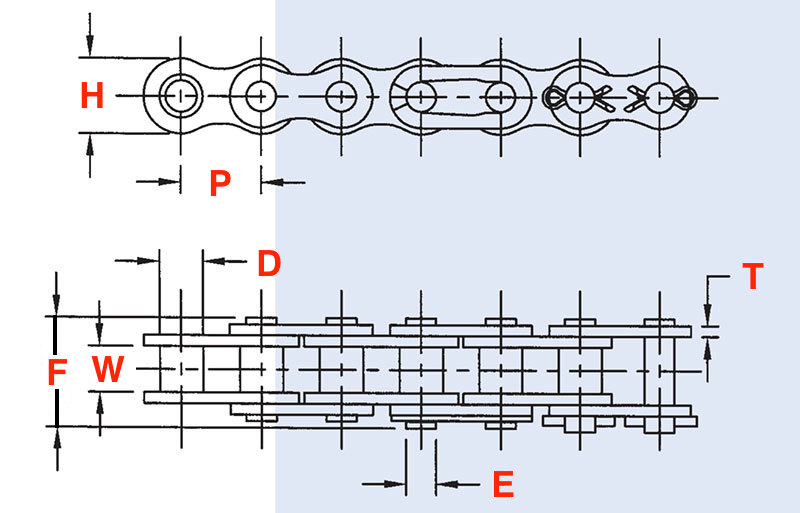 Chain #:                25H
Pitch (P):              0.250"
Bushing Width (W):      0.125"
Bushing Diameter (D):   0.130"
Link Plate Height (H):  0.228"
Link Plate Thickness:   0.039"
Pin Diameter (E):       0.091"
Pin Length (F):         0.354"

Update: 2019-07-15
Further modifications and upgrades to the CarryMe are coming! I've already replaced the saddle and removed the rear brake and corresponding lever to lighten the package.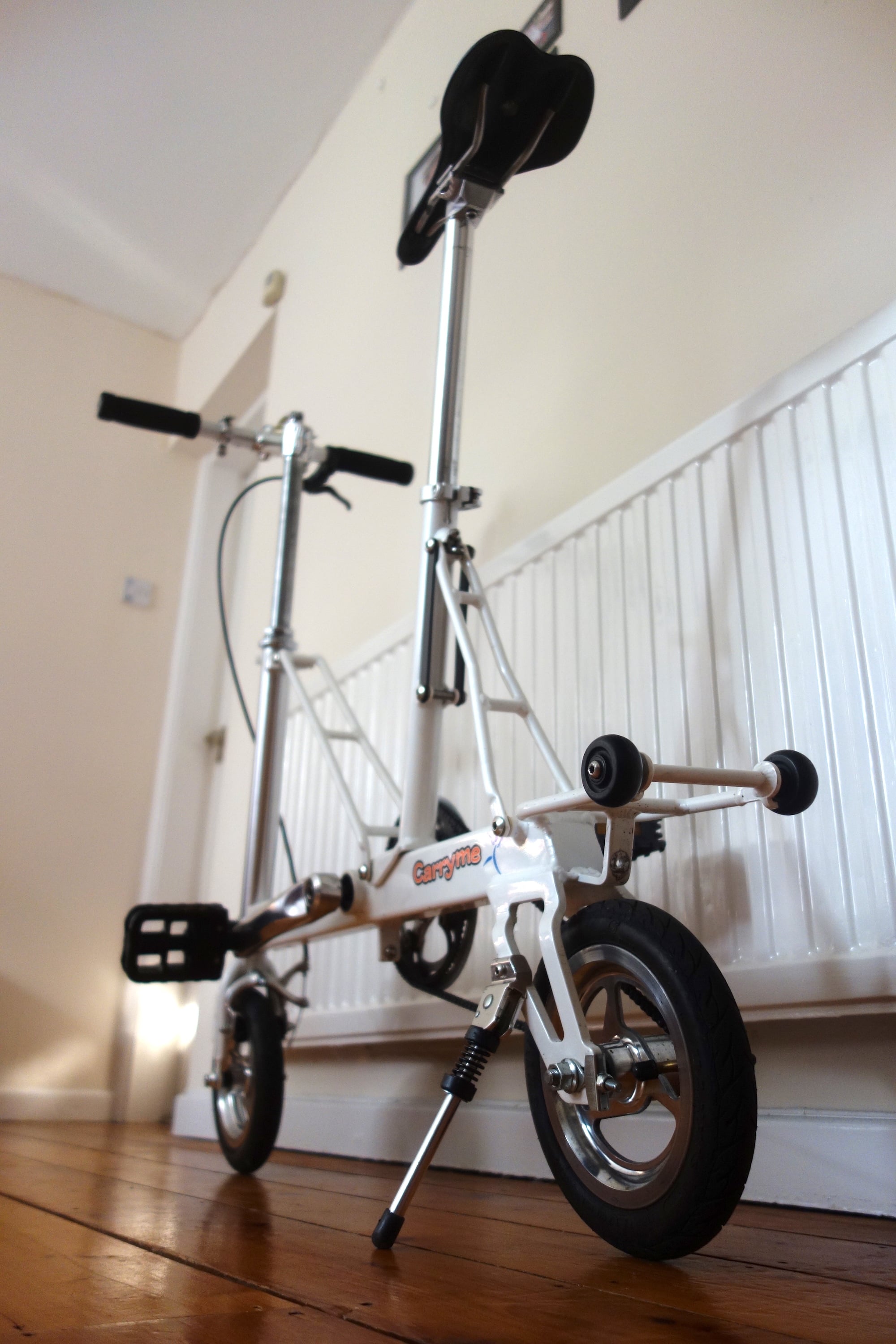 Update: 2019-07-27
I've been able to upgrade the front chainring: replaced the factory 84t chainring and 4 bolt crank-arms with a 92t Multi-S chainring and a 5 bolt, 110mm BCD 145mm length crank-set. It is slightly higher geared now, sitting comfortably at 92 / 14 = 6.5 gear ratio. The chain also needed additional links to fit the larger chain-ring, and I was able to confirm the chain size with the spare chain that came with the new 92t ring.
It was indeed a standard 25H chain, used chiefly with electric / gas scooters and pocket-motorcycles.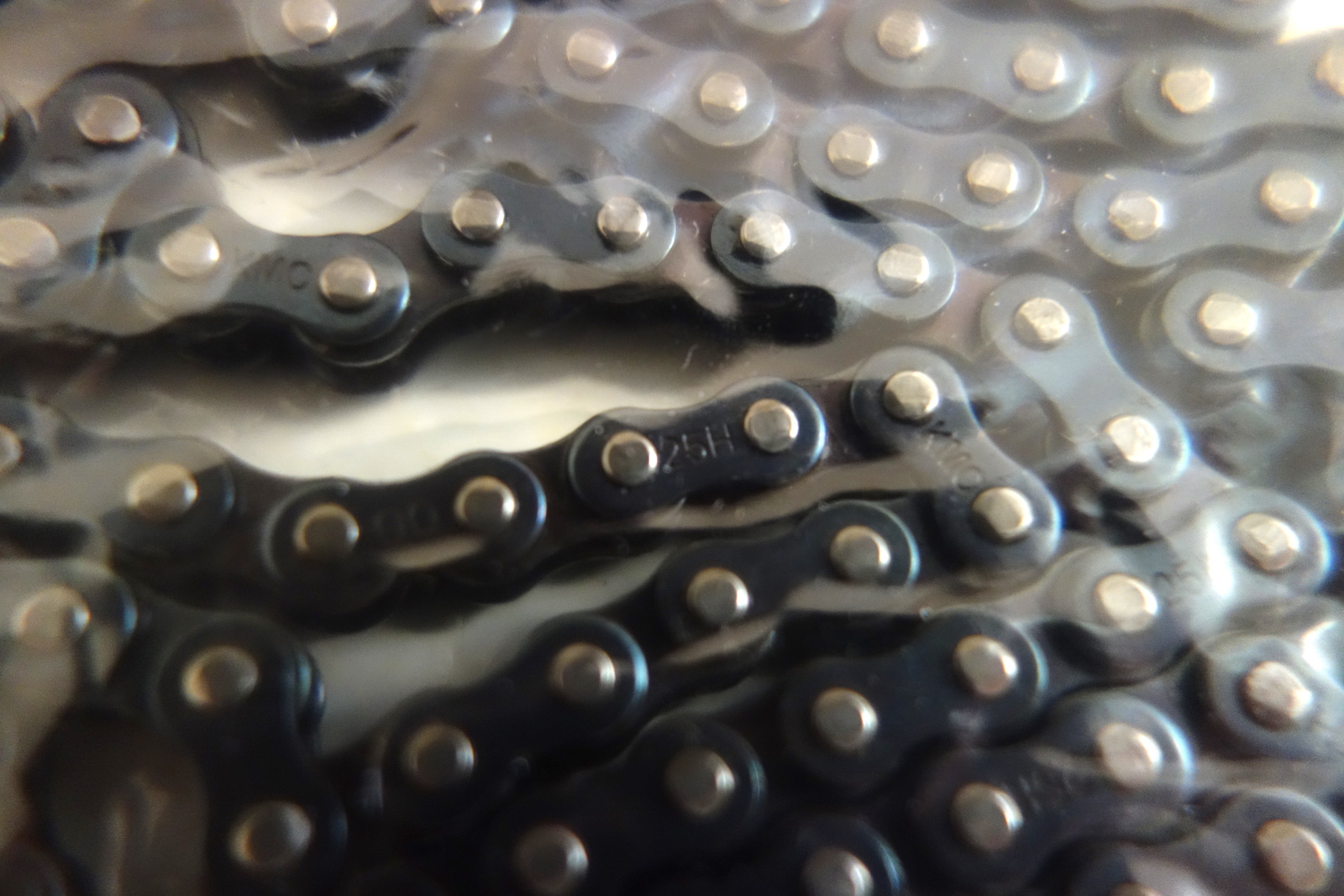 Also added:
a set of Tioga Powerstuds 6 Mini bar ends to allow for changing hand positions during a ride
a set of Wellgo QRD-M111 quick-release pedals for more compactness when folded
Additionally, I managed to source a spare inner tube for the CarryMe, which provided some insights on suppliers for this consumable.
Manufacturer:           CST
Tube type:              WH767P 
                        8" x 1.25" (32-137 metric measurement)
                        (200 x 35 tire)
Marking code:           A45 = Angle 45 degrees bent valve

>>>

TUBE 8x1&1/4 WH767P ND32 A45 
Premium CST Tube
All CST inner tubes are made from Butyl rubber, 
this has a much greater impact burst resistance 
than the cheaper natural rubber inner tubes.

With this I was able to find a potential source of replacements for these inner tubes without needing to import them from Asia: https://www.bickers-online.co.uk/tube-8x1-1-4-wh767p-nd32-a45-p4597
Moreover, searching "8x1&1/4 tire" on eBay or across other e-commerce sites should yield listing for tire replacements and wheels potentially as well!
Front Brake Light Mount: 2019-08-04
I created a light mount out for my Cygolite Metro Pro 1100 light which has a great balance of light output + battery life for the price. I removed the quick-release socket from its stock bike-mount and used a metal bracket to fit it onto the "radius" front brake of the CarryMe. Removing the front but of this brake allows the installation of this light mount, and a thinner lock-nut is substituted to ensure the brake is mechanically unchanged.
The mount does not affect the folded dimensions and it still allows for easy removal of the light.
Weigh in: 2019-08-14
I've now replaced the stock seatpost with a 350mm x 27.2mm titanium seatpost from the manufacturer "Tito". Following this, I weighed the bike with pedals removed: total package comes in at 7.28kg.
I also took the CarryMe on its longest ride yet: a 69km shakedown cruise through the stately homes of Chesire, UK. This bike has some serious staying power!
Update: 2019-10-11
The CarryMe has now traveled with me on a plane! I took it to Jersey where it shone brilliantly on one of the trips with the most cycling that I've had in a long time. Total distance ridden on Jersey was around 160km.