A minivelo is a type of small wheeled bike with a standard road bike geometry and smaller sized wheels. Typically, they are non-folding and fill a niche in between full-sized road / city bikes and folding bikes. Simplicity is the order of the day with most minivelo designs.
I spent some time back in Canada in spring of 2016 and wanted a bike project with which I could surprise my wife (then girlfriend). Budget was set at no more than $200 Canadian and red being one of her favorite colors, I soon found myself browsing eBay and Kijiji.ca for frames or bikes that would fit that mold.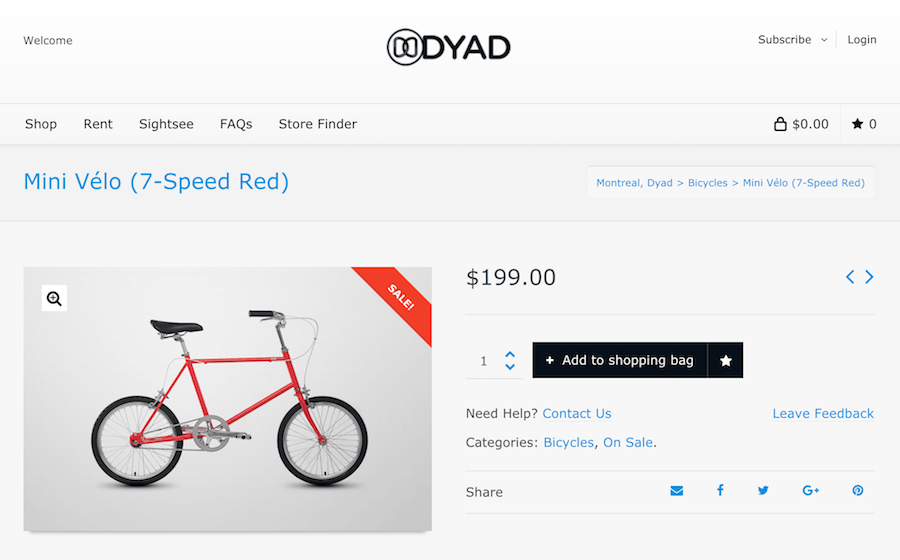 After chancing upon someone's ad for almost unridden example of a minivelo originally from this Montreal city tour company, I arranged a meeting and forked over $110. Just a few tweaks from the sold as-is configuration would turn it into the final form that I was after.
DYAD minivelo
The desired gearing was set to 48t x 14t, not too large a gear for 20" wheels, but not too small either, to keep up with UK city traffic speeds. Bike came with a single chain-ring in the front, which I would leave alone. Instead I would end up swapping out the rear cassette for a single-speed sprocket of 14t or 63.98 gear inches, giving a speed of 15.23 mph at 100rpm.
25.4 mm seatpost diameter
25.4 mm handlebars diameter
Wheel size was 20" x 1.75" or ISO 406 sizing
It was to have a look similar to this mini-velo sold here but at a cost less than the advertised 400 EUR.
Modifications
I removed nearly all the extraneous parts off the bike to make it as simple as possible, this would be everything save the front brake. They were also replaced with better levers and caliper brake pads.
The rear cassette took some work to get off as it was an older make Shimano screw-on 5-speed freehub, similar to the Uniglide / Hyperglide hubs sold in the 80s and 90s. It was replaced with a £6.85 14 tooth single-speed "Dicta" freewheel off of eBay.
By sheer luck I was also able to source a broken in Brooks B17 saddle for $90 along with a 25.4mm riser bar that I then chopped down to about 280mm length. Transplanting non-removable Wellgo pedals from the Brompton, I was able to shave some weight off the pedals as well.
To top it off, I added an Interlock seat post that serves as an casual protection mechanism.
Little Red Riding Hood
To show off the final product, I took it for a road-worthiness ride around the Lakeshore trail in Toronto.
She was very happy with it!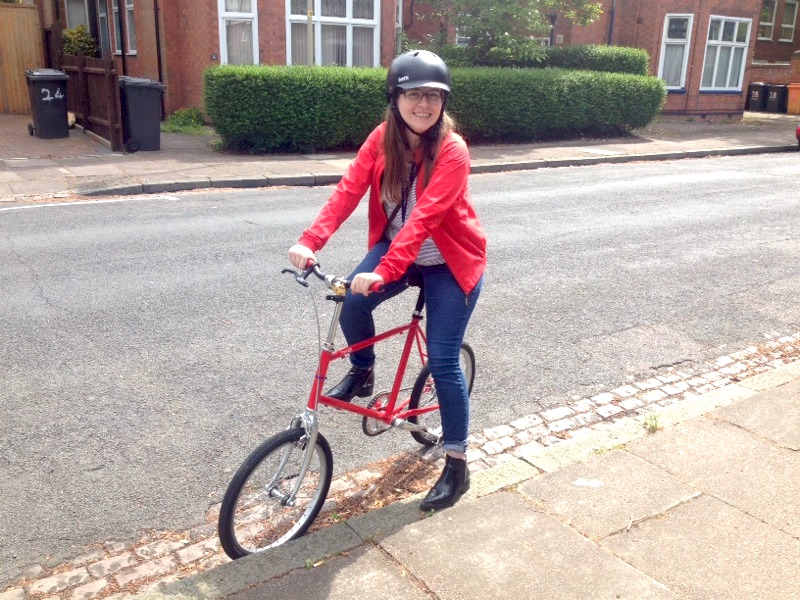 Update 27/11/2016: Del's other bike was stolen from the Liverpool train station so she's had to use Little Red Riding Hood in the interim. Carrying it up 2 flights of stairs everyday is something that would not have been possible with her previous bike.
Update 22/03/2017: With some encouragement from Del, I started to dabble again in polymer clay sculptures: the product of the first session was a petite model of Little Red Riding Hood
Effective Top Tube Length
A visitor to the page inquired about the bike's effective top tube length to help him make a buying decision on the fit of the bike. As you can see the ETTL is 52cm.