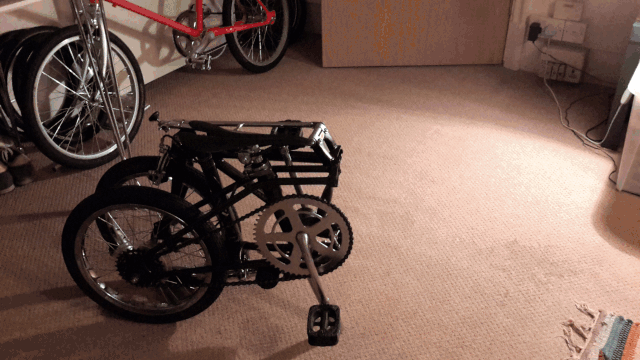 First released to the public in 1982, it came in single-speed, 3-speed internal gear hub (IGH), and 5-speed derailleur options. Having the smallest fold in a production bike at affordable prices, it became an instant consumer hit. The original design itself lived on for a number of years into the 90s.
---
Compared to the Brompton
The Bad Stuff
fiddlier fold process (5 steps vs 3 steps for the Brompton)
a bit rough around the edges in terms of braking (under powered side-pull calipers and pads, though the Brompton Mk I and II suffered from the same)
complex frame structure (folding stem is secured by a diagonal strut that locks into a ring, allowing the stem to pivot normally)
appreciably heavier
lack of cable management
more moving parts = more potential points of failure
The Good Stuff
weird little fold away caster wheel (acts as a third wheel to prop up the folded bike)
smoother ride due to fatter 47-305 tires (vs 349 tires on the Brompton)
15% the cost of the Brompton
comes with kickstand, rack, and mudguards by default
very sturdy: frame is completely overbuilt
Verdict: no match to fill the workhorse niche, but it's a solid contender in the fun department.
---
Unusual mechanical details
Folding caster wheel
There seems to be a modern descendant of this accessory, currently sold as an add-on part: the Dahon Landing Gear. (last 2 photos)
See it in action here: https://www.youtube.com/watch?v=_hT-j6luNso
Extra: There seem to be a few instances where people have added their own caster wheel to other Dahon bikes that did not include them as part of the base.
Telescoping stem and seat-post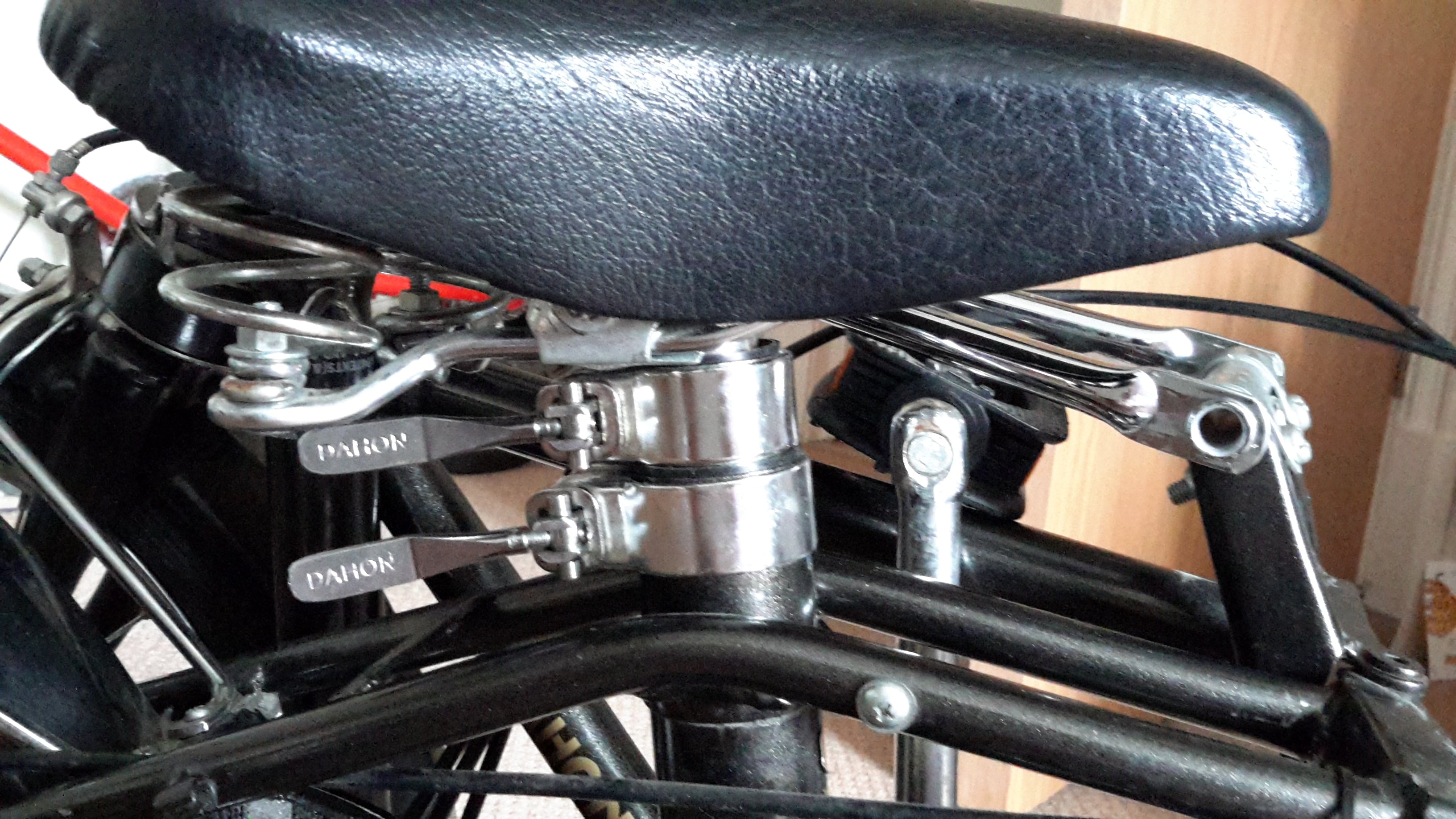 Stem locking strut
"Knuckle" hinge with detent for main frame
Handlebar angle

I quite like the angle of this bar, it's flat mounted but with just a slight angle that allow the wrists to rest in a more comfortable position. This angle is uncommon amongst modern bikes and has a certain pleasing aesthetic to it.
---
Frame serial number
This particular bike's frame number is A094418. It was manufactured in Taiwan in the 1980s:
Over the years there have been some other systems and lettering. A certain amount of Taiwan made bikes in the 80s will have a serial number starting with A.
Additionally, the 5-speed cassette it was manufactured with is a Shimano MF-Z012 which is a freewheel that can be removed with the Park Tool FR-1. Or for the more adventurous individual, there is a possibility of reusing the freewheel body as this model is confirmed to be a second-generation Uniglide freewheel (which means the outermost cog doubles as a lockring). I've dealt with Uniglide hubs before in my rebuild of the Free-spirit single speed conversion.
---
Modified details
1. Seat post locking insert for cannibalized Brompton seatpost
I wanted to fit the 31.8mm OD Brompton seat-post since it was significantly lighter than the heavy steel telescopic seat-post that came with the bike. As it turned out the seat-post insert for frame couldn't accommodate the transplant (Dahon stock seat post diameter is 33.9mm). I had to insert a shim which I cut out of a HDPE milk jug. After shaving some circumference off the insert, the resulting product was perfectly functional and worked without slipping while sat on the new seat-post.
I suspect this hack would require a bit more work to support a heavier rider (> 80 kg).
Interestingly, due to the beefy thickness of the steel, the removed telescopic stock would make an excellent club in case anybody wanted to steal your ride. :)
+ £0.00 (donated Brompton seat-post) (397g seat-post vs 875g telescopic seat-post) reduced weight for minimizing moving parts
2. Minimal carbon fibre saddle
On a bike with a less upright position this modification would've been unacceptable since the saddle is incredibly stiff and uncomfortable without padded shorts. But here, it holds well since the stiffness is mostly transferred properly to the sit bones for the Dahon Classic V's riding style: well worth the reduced weight.
+ £53.17 (92g saddle weight)
I ended up replacing that saddle with a Selle San Marco with titanium rails. + £10.00 (230g saddle weight) added weight for comfort
3. Brake pad replaced
Stock brake pads had a very old rubber compound that was no good for fast stops; they needed to be replaced to ensure a safe ride.
4. Mudguards, caster wheel, rear-rack, rear brake caliper + lever, and derailleur removed
This was done strictly as a single speed conversion with weight reduction as the primary goal. The only gear I found myself using was the already the highest gear, even up hills. There would be no point in having any lower gears given the amount of weight that incurred.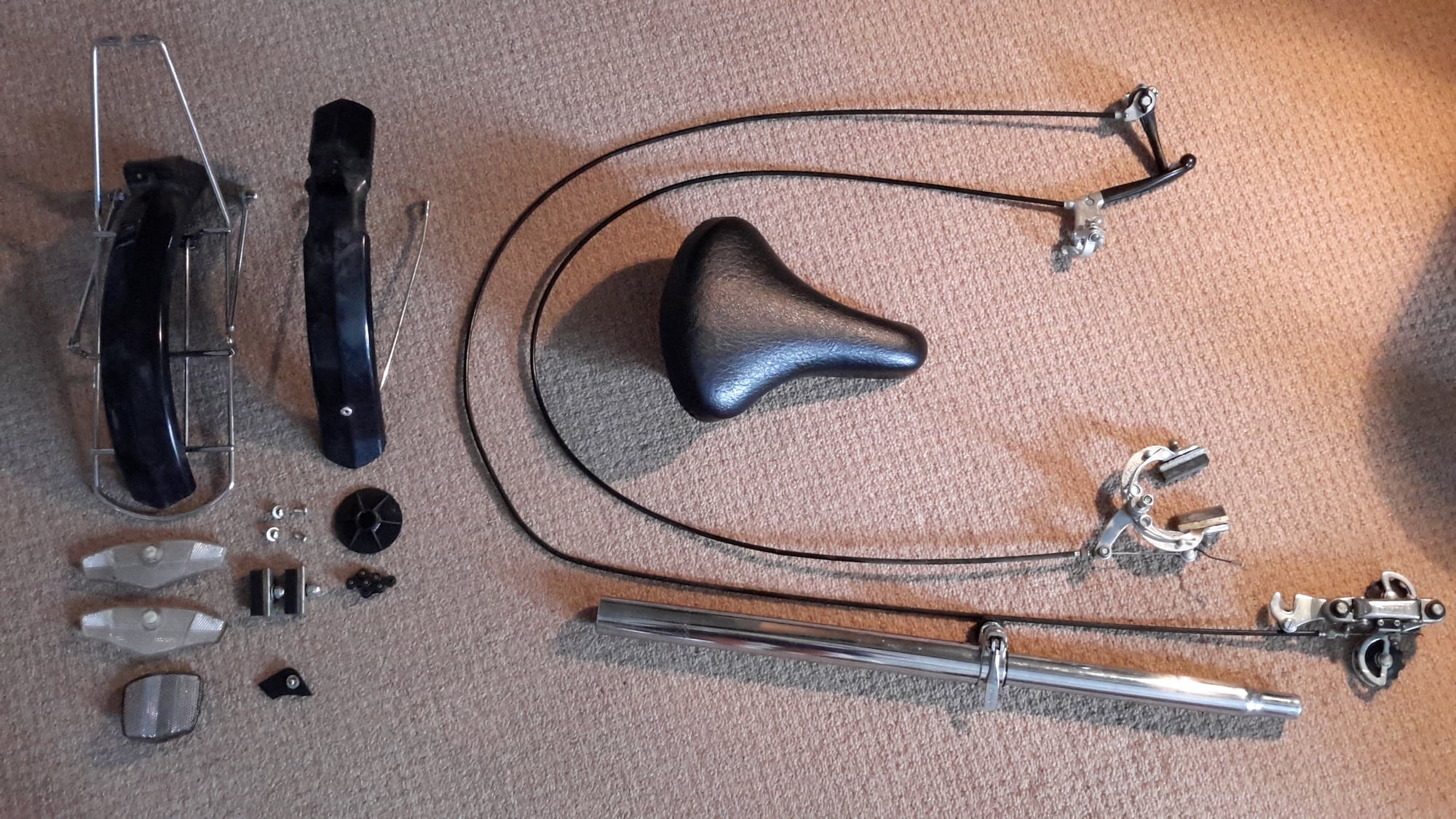 This highest gear ratio is composed of 52 teeth in the front with 14 teeth in the rear sprocket. The wheel size is ETRTO 47-305 (16in x 1.75in), giving the Dahon Classic V a maximum of 60.54 gear-inches.
Additionally, the rear brake was beyond useless with its ancient rubber pads. The rear brake accounts for around 10% of the braking force so it was a good trade off to remove the brake, cabling, and lever in exchange for some reduced weight (less mass on the bike means slightly more effective braking in the front brake).
Furthermore, since I was able to swap in the Brompton standard steel seat-post, I found I could still prop the bike up while it was folded by pushing the seat post to its maximum depth: this allowed me to remove the folding caster wheel mechanism with confidence.
(1800g removed components' total weight) removed weight for poorer coverage in wet conditions, less cargo functionality, and less gearing options
5. Crankset
The stock bottom bracket (standard 68mm shell) and crankset are American sized bottom brackets. The cranks are one-piece and forged out of heavy steel which means swapping it out for a three-piece crank should save a lot of weight!
6. Removable pedals
Stock pedals did not fold on the right hand side: folded dimensions were much larger than they could be. I purchased a pair of Wellgo Quick Release M138 pedals which are similar to the MKS EZY-E pedals I put on my Brompton, the only functional difference are the more pronounced studs on the pedal which will help my feet stay on in wet conditions. Unfortunately I could not immediately use the removable pedals because the threading and the bolt on the stock pedal and the crank arms were about 1mm small in diameter. Although the wrench size to loosen the pedal was the standard 15mm. The only way to use these pedals is to replace the crankset.
+ £28.40
330g M138 pedal weight vs 320g stock pedal weight added slight weight for a better fold + better security
Modification result: version 1
---
Additional modifications in 2017
I was eager to try out the Dahon again after some new mods early in 2017. As I had moved to Manchester at this point, I decided to try out the Fallowfield cycle route with @suoman.
Riding it had several distinct feelings: the bike had a tendency to eject rider due to upright position and short wheelbase. The cycle trail included a few sections of cobblestone paths where gaps between the stones, combined with the ejection tendency, posed a major problem to keeping the bike upright. I would recommend replacement of stock tires and wheels if you plan on riding on uneven and slippery surfaces, though tire selection can be sparse with this size (16in x 1.75in).
+ £30
I added a 33.9mm x 580mm carbon fibre seat post for 30 GBP. This part significantly reduces the weight compared to the telescopic steel seatpost that was there before. reduced weight
+ £27.21
Also added was a 60t chain-ring, which gives a new ratio of 60t x 16t x 16" wheels for a whooping 50.5 gear-inches. This squarely puts the bike into the dark horse territory as it is both able to maintain high speed due to the 60 tooth ring and accelerate quickly given its small wheel size. increased top speed
+ £15 crankset
+ £17 bottom bracket American-to-Euro adapter
+ £15 bottom bracket
To replace the one-piece crankset, I had to remove some excess material within the seat-post tube to make a cartridge based Shimano BB-UN55 Bottom Bracket (68 x 107mm). After doing that, I fitted a set of Stronglight Mygal cranks. reduced weight, increased gearing options, easier maintenance
Modification result: version 2
A pretty looking bike with a very much lightened total weight of 11.06kg.