Biking since moving to London UK
Cycling has always been a way for me to get around and explore places nearby but out of walking distance. After I moved to London, the first few weeks were fairly boring in spite of the extensive means of public transit offered by the city. City-hire bikes were available but they are not exactly enjoyable to ride.
I held off from buying a bike straight away because it was quite expensive to purchase a cycle in London. I had to ration the cash, as I arrived with only a fistful of pounds to cover the rent, bills, and all other expenses before my first few paychecks. In hindsight, it was and still is cheaper to get around the city than to rely on other kinds of transit.
I went as far as ordering a quick-access bike hire key and used it for a few days before relenting and decided that I would need to buy my own bike. My first bike was purchased in April 2014. A 100 quid steel beast from the Argos catalog that I promptly named "butch".
Though weighty, its anemic 6 gears served me well and I rode several 100km rides (including my first London to Brighton ride). More importantly it allowed me to confidently explore the new city and I even joined a few casual IBikeLDN rides to engage other people in the cycling community. It was a beater bike, plain and simple. I didn't have to lose sleep over thieves, vandals, or other unsavory elements as I left it locked around London.
In February 2015, after the saddle had lost most of its lining through a tear, its headset coming loose, and after suffering another puncture, it was apparent that I was due for a new (to me) bike. Spending more money than the initial purchase price to maintain a beater bike didn't make sense to me; a second hand 2007 Specialized Sirrus from BikeWorks was to be that next bike. It came with an easily indexable set of derailleurs, a (surpise) carbon fork, and 24 gears total for around 200. A great bargain for a noticable improvement over butch.
LBBG
I found the London Beer and Bike Group through the IBikeLDN mass rides. As per the name, it's a casual cycling group that may or may not imbibe fermented wheat drinks as part of a ride. This is the group I found myself riding with most often. I was convinced not only by the friendliness of the other riders but also the fact that there were specific training rides for the Dunwich Dynamo (180 mile night ride) that include many places far outside of London. The long weekend rides usually come in the long format and are, for me, a great way to go from within London out to discover the ambience and character of places that aren't London. Great fun.
Meeting different people within this group gave me the chance to appreciate the different styles of riding, different styles of bikes and different ways of interpreting the world on two wheels. Sounds a little cliche but the fact of the matter is that I learned to appreciate and ultimately adopt the bicycle as more than just a vehicle to get me from A to B. It is a statement; in the same way that people might express themselves through T-shirt designs, you could say that a bike is an individual expression.
A few people would occasionally show up to these longer rides with these dinky little folding bikes which would never fail to draw at least a few sniggers from the more "serious" riders. Pretending to be more of a "serious" rider myself, it seemed like I felt the need to react in the same way but I couldn't do it. There was something elusive about folding bikes. Something worth deeper appreciation.
Folding bikes
My friend Andrea Woelke was part of the group who were enthusiastic about welcoming people "into the fold", so to speak. I broached the subject of owning a folding bike after seeing Bromptons over-represented (vs other folding bikes) in the city and he was only too happy to make suggestions and give advice on what models to purchase. Initially, I wanted to go the economical route and buy a junker folding bike, then upgrade to the Brompton, which is the absolute top model of the category. Thankfully, I bit the bullet and allowed common sense to override this idea because as with most things, paying for a quality product up-front saves you trouble later down the line.
Off I went to search Gumtree. In no time, I found a particular bike satisfactory: single-speed, without the weird M style handlebar and with a decent seat on it. I splashed out 560 GBP for it. She would be named Bessie.
The seller had posted the ad recently and I felt that particular bike was different enough and cheap enough to be The One. Later that weekend we exchanged emails and agreed to meet for the money-bike swap. I have to admit, I was a little apprehensive on that day but when the Italian rolled that Brompton out there was no turning back. I hopped on and folded and unfolded it several times. If my memory was correct, there were no other words after that. I rode away.
Riding it back from Queens Road in Peckham as an absolute treat. I can only describe it as exhilarating as flying through the streets on rocket powered roller skates. The simplicity of single speed with the total lack of cockpit controls and diminished frame size made it feel as though I wasn't even riding a bike. It was as if I was somehow gliding along the ground and my legs performing a pedaling motion by sheer coincidence. Completely reinvigorating.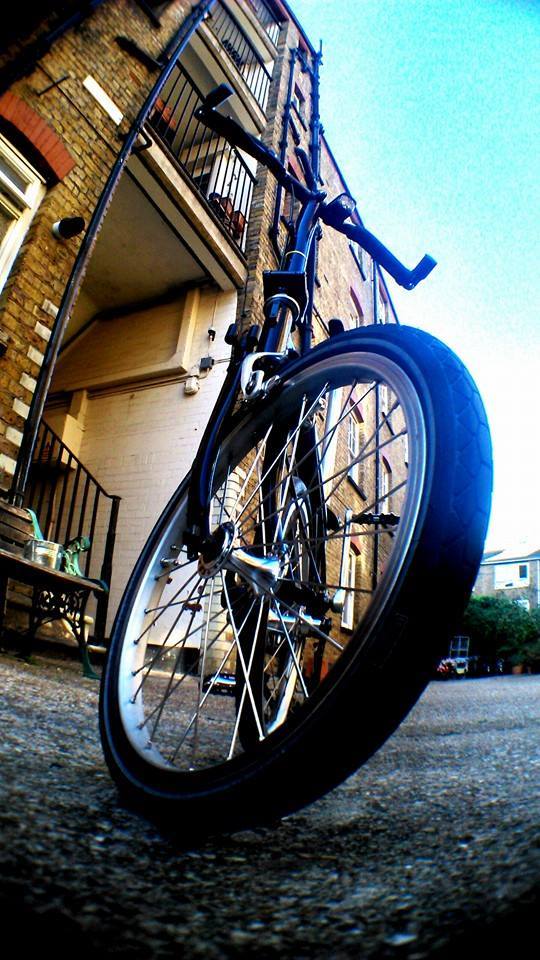 First upgrade to Bessie: added bar ends for changing hand and wrist positions during long rides. Makes the bike a bit more aggressive looking as well.
Upon becoming completely enamored with the fun machine, I also decided to join the crowd and log all my rides via Strava.
Company holiday to the Netherlands
Our company took us out for a weekend summer holiday in Netherlands. Spent 2 nights on the Ijsselmeer with Bessie in fold. Snuck out for a midnight ride from Enkhuizen to Medembljk loop (30km roundtrip). The boat captain thought the trip was a bit kooky.
The route was around 98km one way with a train back into London.
Great day, sunny throughout. Warm temperatures made the beer and food stop a pleasant affair. Entire loop was about 120km.
May Planespotting Ride
A quick weekday trip after work from Marble Arch to a field near Heathrow Airport and back into the city!
Rode 185km from London Fields to Dunwich Beach as part of the annual Dunwich Dynamo. Stayed overnight at a nice bed-and-breakfast and explored the surrounding areas before riding another 190km back to London. This was my longest ride yet.
There's something to be said for the ambience of a night ride of this magnitude: from the eerie drone of hundreds of cyclists grinding up hills to the swarm of red LEDs blinking through dark patches of forest trails; this is an experience not to be missed by cyclists of any kind. Simply amazing.
"At Dungeness, in the shadow of the Magnox nuclear power station, we'll visit visionary film-maker, author, stage-designer, and gay-rights activist Derek Jarman's unique post-modern, highly location sensitive garden (the home is privately owned, which we will respect), before heading a little way up the road to see a set of magnificent structures built early during WW2 as precursors to RADAR - so called sound mirrors. From there we will head on to the return part of the loop, finishing in the old, peaceful village of Pluckley, where we should take advantage of one of the local pubs before riding back to the station. But all is not as it seems in quiet little Pluckley, for, with a historical catalogue of spooky goings on as long as your arm, it is reckoned to be the most haunted village in Britain. A summer evening might not be the best conditions for ghost stories, but maybe you'll feel a prickle on the back of your neck, a breath by your ear… Maybe, if we stay past sunset, we will see the spectral coach and horses driven through the village by a headless coachman, hear the creaking of the phantom gibbet swinging in the windless air at the crossroads, or maybe you'll be chilled to the bone by the eerie cries that give Screaming Wood it's name."
A once in year tour with the LBBG from Pluckley to Dungeness in the south east of England. 100km loop back to Pluckley for the train back to London.
Munich
Took Bessie on the plane to visit my friend Hesam who lives in Munich. We joined the Munich Radlnacht ("bike night") and explored many parts of the city. I had to leave him be, in the days following an unfortunate tumble he made (reasons for which were voluntarily forgotten :)). Took a grand ride from Munich to the Alps which stopped at Bad Tolz and rode back. The weather was fantastic, though a little on the sweltering side: averaging 36 degrees the entire duration of my visit.
Dartmoor
I also spent a weekend visiting Del in Dartmoor and of course had to take Bessie. Rode in after a grueling 6 hours on the bus on Friday night, I took to the hills from Exeter to Moretonhampstead. More than once the grade was high enough that I couldn't sustain a grind up them. Riding around during the day proved to be an excellent reveal of the local scenery. Sadly, the hills were unrelenting.
Maintenance and Upgrades to Bessie
After surviving the long rides in Dartmoor and Munich, Bessie 1.0 had an untimely meeting with the back of a cab when I was riding her from London St Pancras back home. Luckily, I suffered nothing more than a bruised ego. The bump caused the headset to loosen.
I also felt a little hesitant to ride her without fixing a few other bits as well. After consulting the London Brompton Group about fixing these issues myself, it seemed best to leave them in the hands of someone specialized in Brompton repairs. Of course, that meant taking it to the Brompton Junction in Covent Garden which I could be 100% positive of getting anything I needed mended with the proper tools.
Here are the bits that Bessie had replaced:
New bottom bracket
Swapped 50t chainring with 54t spider ring
New cranks (alloy replacing steel)
New rear hinge
While it was being serviced the London Brompton Junction was generous enough to lend me an up to date S6L as a substitute. And I had only one thought in mind while riding it: this thing is as heavy as a tank. For a folding bike, that is almost inexcusable, considering the possibility of carrying the bike around is much higher than a non-folding bike. So the first thing I did when Bessie was returned to me was get an upgrade to shave off 10s of grams. I got a carbon seatpost. (55 GBP on eBay)
Of course it was only a matter of time before I had to join a London Brompton Club ride. We had a great guide who, in spite of all factors of the elements (mostly rain), took us through the course of the river Effra which is now almost completely subterranean. Starting at Gipsy Hill station, we followed its passages, lined with stink pipes, colorful ghetto housing and bridge archways through to its conclusion at the edge of the Thames near MI6. A breath of fresh air (not from the Effra) amongst London rides.
Capping off the experience we landed in a nice brunch restaurant opposite Vauxhall rail station. The food was delicious.
Update ~ 20/05/2017: I've since discovered the serial number for this frame (2267) which means it was manufactured between March and May of 1990. Near as old as I am!